#E/ESystemsDevelopment 
@ OasisSales is where Wire Harness + the digital enterprise comes to life
Power into the Future of E/E Systems
Modern E/E systems are characterized by a huge growth in complexity and depend on integrated electrical, electronic, and software systems for innovation, while demanding robust verification and traceability. As components of Siemens Digital Industries Software portfolio called Xcelerator, Capital® and Capital Essentials® (formerly VeSys)software connects people and processes, across functional silos, with a digital thread for innovation. The unmatched breadth and depth of our portfolio means that you can solve more of the tough challenges required to develop highly successful products as an OEM or Wire Harness Manufacturer.
Oasis Sales + E/E Systems
The trends in the transportation, heavy equipment and aerospace industries, consumer choices, regulations from governments continue to percolate into the challenges of transforming functional requirements into systems and the systems designs into physically routed implementations of electrical interconnect.  
E/E Systems Revolution Podcast
Discover the E/E Systems portfolio
More Info
Used by leading OEM manufacturers in automotive, transportation and aerospace our advanced software suite for the electrical system and wire harness domain is built to support the complex demands of integrated processes from initial E/E systems definition through design, manufacture and service.
Find out more about our OEM Solutions
More Info
All industries are facing advancing technology trends, thus increasing customer demands which is forcing manufacturers to become agile and adaptable. Now more than ever it's crucial for suppliers to deliver high-quality products that meet global demand while also maximizing efficiency.
Find out more about our WHM Solutions
More Info
SMB's are in need of a suite of wiring and harness design software tools to satisfy their demanding requirements where ease-of-use and value are as important as functionality. Rapid, right-first-time, error-free electrical and harness design is here with Capital Essentials.
Find out more about  Captial Essentials
50% Reduction in Electrical Design TIme
30% Reduction in Quote-to-Production Cycle Time
80% Reduction in Service Documentation Time
40% Reduction in Fault Diagnosis Time
Compare Capital Essentials (formerly VeSys) and Capital
Not sure which product is best for you? Then use this simple table to help find the right product.
Both Capital Essentials and Capital can support all of the requirements shown in the table – your choice is between lower-cost (Capital Essentials) or high automation (Capital).  
Not every company falls neatly into one product category or the other.  So, if you're uncertain take a look at each of the products on this site or contact us to discuss.
And remember—Capital Essentials designs and data are fully compatible with Capital, so if you're still in doubt you can start with Capital Essentials and upgrade to Capital later. Need more advice?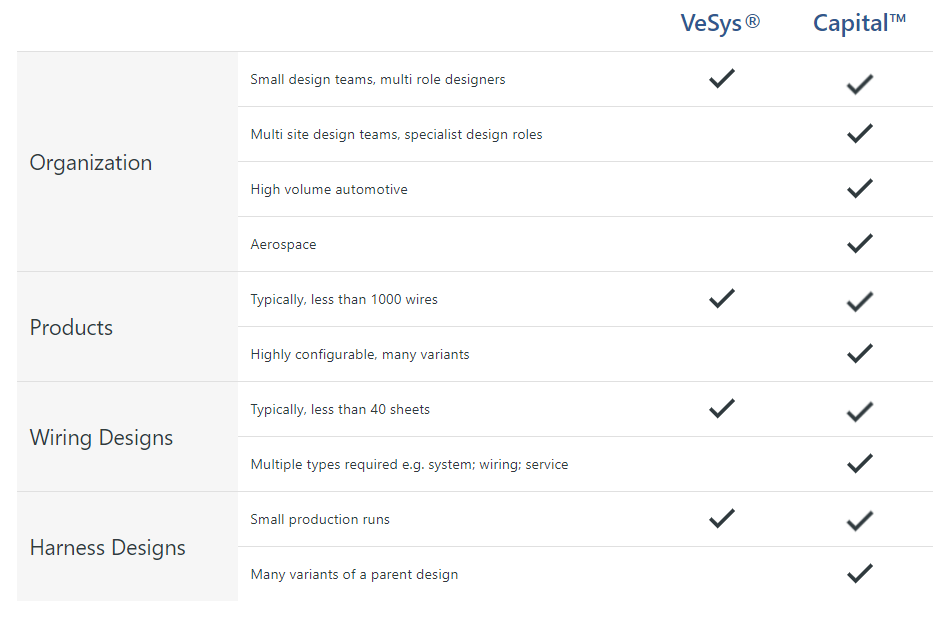 Capital & Capital Essentials
Professional Services
Technology will never stop evolving, it's the nature of the beast. So having an innovation advisor on your side is vital: to tailor a strategy that fits, and to uncover the right tech for your toughest business problems—no matter the industry.
Our technology consulting services help you steer your transformation with the latest technology, design thinking and agility, while also energizing your legacy systems—at a pace that's right for your business. Raise your business to the next level with groundbreaking strategy, fresh technologies and innovation advisors that help drive business value.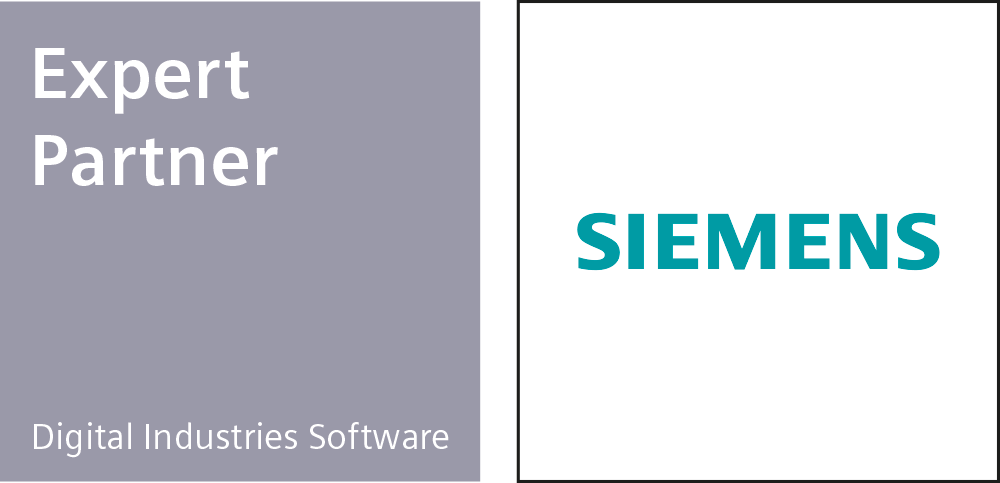 Services & Training
For technical software used in the design of electrical distribution systems the key factor seems to be how the organization adopting the software organizes itself.  That may seem a curious thing to say, but let's look at it right from the beginning.
Technology Advisory Services
Offering a comprehensive approach to deployment:
Expert-led
Expedited & Streamlined
Continuous Verification & Validation
Accelerate time to improved productivity
Read more about our Software + Services
On Demand Training
Courses include interactive videos, written course materials, knowledge checks, and hands-on labs through the Siemens Virtual Lab platform. This platform utilizes a test environment where you can work with the tools in a hands-on setting, allowing you to implement the skills you're gaining along the way.
instructor led Training
#1- Dynamic, real-time engagement with an instructor. We deliver classes with all the necessary equipment and software at your offices.
#2 - Training without the travel. This flexible learning format is delivered with a qualified instructor available online to answer questions and walk you through Virtual Labs running fully configured Siemens software.

Implementation & Library Development
Our technology advisors help you pivot wisely to new technology, while getting the most from your legacy technology.  Together, we develop a roadmap for change that integrates with your workforce and business processes creating greater success.
Symbol Libraries
Our Symbol Libraries for your selected connectors and terminals are created from the manufacturer's drawings to insure accuracy. A library of industry standard electrical and drafting symbols is also provided. Sample Border Symbol templates with property value placeholders are provided to automate the addition of project, design, and diagram specific information.
Component Library
Based on your requirements, we will provide a 
QuickStart
 custom library of component parts (i.e. wires, connectors, terminals, boots, insulation, clips, etc.) that can be used in designs created in Capital® and VeSys® design tools. The library will contain the wire and multicore cable that you specify. Connectors are configured to include typically used mandatory and optional "Housing" parts such as terminals, cavity plugs, boots, seals, and mounting hardware. Cavity names, cavity attributes and mating information is also provided. The following library design features and default specifications are used.
A QuickStart custom library of 100 existing connectors of your choice (together with some bonus content) which is usually a good start for a new customer and includes the time to select, package, test, transmit to you.   You can easily "grow" the library yourself from there with proper training.
Oasis maintains 3 master libraries.
Metric UOM – Automotive

Imperial UOM – Automotive

Imperial UOM – Mil-Aero
As of 1/1/2021 there are over 13,000 components in these libraries.
Partner into the Future with Oasis Sales
Today's designers demand integrated world class solutions.  
Our "total solution" is comprised Siemens Digital Industries Software's portfolio of world-class tools and key partner technologies. When you Partner with Oasis Sales, we implement software solutions that are created for innovative businesses like yours where you can Visualize, Design, Optimize, Deliver on time and Under Budget now and in the future!   
We understand that you as a customer don't want just products, you want better outcomes and a superior experience.  Our dedicated industry experts work with you to solve business problems. 
The goal: increased productivity, efficiency and quality, resulting in higher competitiveness for companies on their way into the future.
As a Platinum Solution Provider of Siemens Digital Industries Software, we are required to have the highest skilled technical and sales staff while excellent customer service remains our highest priority.
With over 100 years of combined industry experience, there is nothing we haven't seen or helped our clients do.
With our team, we provide you with guidance for solutions and implementations that create a high level of efficiency and will streamline operations.
Years selling EDA Semiconductors & Software
Years of combined Sales Experience
Years of combined Sales & Technical Experience with Large Platform Electrical Systems & Wire Harness
Oasis provides  flexible technology to meet changing requirements in organizations just like yours