#SimcenterSimulation
@ OasisSales is where Simulation + the digital enterprise meets tomorrow
Power into the Future with Simcenter Simulation
Engineering departments today must develop smart products that integrate mechanical functions with electronics and controls, utilize new materials and manufacturing methods and deliver new designs within ever shorter design cycles. This requires current engineering practices for product performance verification to evolve into a Digital Twin approach, which enables to follow a more predictive process for systems driven product development..
Simcenter™ software uniquely combines system simulation, 3D CAE and test to help you predict performance across all critical attributes earlier and throughout the entire product lifecycle. By combining physics-based simulations with insights gained from data analytics, Simcenter helps you optimize design and deliver innovations faster and with greater confidence.
Oasis Sales + Simulation
Simcenter lets you predict the performance of your 3D geometry-based designs. In our Simcenter products, you can import geometry from any CAD source and prepare analysis models in a unified environment for a wide range of CAE methods including finite element, boundary element, computational fluid dynamics, and multi-body dynamics.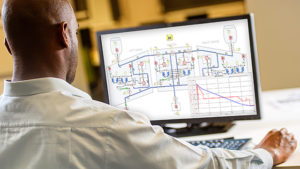 Discover Simcenter CAE Simulation
More Info
Simcenter™ Flotherm™ creates a thermal digital twin of an electronics product that is capable of simulating temperature and airflow.
A thermal digital twin is easily created for any electronics product by working with SmartParts™(heatsinks, fans, enclosures, TECs, PCMs, are more) and a customizable part library system.
More Info
Simcenter™ Flotherm™ (XT) is a unique, award-winning thermal simulation solution combining the DNA of market-leading Simcenter Flotherm thermal analysis software with concurrent computational fluid dynamics (CFD) technology from Simcenter FloEFD. Flotherm XT handles large, complex electronic systems with ease, cutting process times significantly compared to traditional general-purpose solutions, so mechanical engineers and thermal specialists can quickly create the optimum thermal design.
More Info
Extend the power of Siemens NX to optimize product performance and reliability for fluid flow and heat transfer effects. With its unique combination of an intuitive interface, and fast as well as accurate technology, Simcenter™ FLOEFD™ for NX can be inserted into your current design process without any disruption, streamlining your workflow and improving productivity by 40x.  You can also expect the same level of integration with Creo, CATIA V5 and Solid Edge.
Simcenter FloEFD for Solid Edge
More Info
Simcenter FLOEFD™ for Solid Edge® delivers the industry's leading computational fluid dynamics (CFD) analysis tool for fluid flow and heat transfer. Fully embedded in Solid Edge, Simcenter FLOEFD has intelligent technology at its core to help make CFD easier, faster, and more accurate. It also enables design engineers to frontload CFD, or move simulation early into the design process, allowing users to identify and fix problems earlier, saving time and money and enhancing productivity by up to 40x.
Simcenter FLOEFD for Solid Edge provides optional modules for advanced analyses. Three new add-on modules are now available in Solid Edge:
Structural module
Extended Design Exploration (HEEDS) module
Electromagnetic (EMAG) module
Discover Simcenter System Simulation
More Info
Simcenter™ Flomaster™ offers in-built empirical data, a large library of components and sample systems to increase engineering productivity. The steady-state and transient solvers allow for rapid component sizing, pressure, temperature, and flow studies system-wide, and monitoring for system performance issues during real world operating conditions such as pressure surge.
As part of a large engineering process, Simcenter Flomaster tightly couples with Simcenter FLOEFD for when more detail is needed for a given component and with other system level tools through Functional Mock-up Interface (FMI) for total system of system analysis.
Predict performance of 3D geometry-based designs
Simcenter's integrated high-end, multi-discipline solutions are scalable for use by general analysts and discipline experts. Additionally, by linking 3D simulation to Simcenter's 1D and testing solutions, you can achieve unmatched accuracy.
Importance of Simulation in Engineering Design
Partner into the Future with Oasis Sales
Today's designers demand integrated world class solutions.  
Our "total solution" is comprised Siemens Digital Industries Software's portfolio of world-class tools and key partner technologies. When you Partner with Oasis Sales, we implement software solutions that are created for innovative businesses like yours where you can Visualize, Design, Optimize, Deliver on time and Under Budget now and in the future!   
We understand that you as a customer don't want just products, you want better outcomes and a superior experience.  Our dedicated industry experts work with you to solve business problems. 
The goal: increased productivity, efficiency and quality, resulting in higher competitiveness for companies on their way into the future.
As a Platinum Solution Provider of Siemens Digital Industries Software, we are required to have the highest skilled technical and sales staff while excellent customer service remains our highest priority.
With over 100 years of combined industry experience, there is nothing we haven't seen or helped our clients do.
With our team, we provide you with guidance for solutions and implementations that create a high level of efficiency and will streamline operations.