#WireHarnessManufactures
@ OasisSales is where Wire Harness Manufacturing + the digital enterprise meets tomorrow
Increases in wire harness complexity demand 
powerful tools
Wire Harness Manufacturing should not be done in isolation. 
Why
Dig
italize a Wire Harness
?
Our Capital Solution is a unique, model based software solution for wire harness operations who want to boost competitiveness & profitability. Developed by industry experts in one of the world's largest companies, it creates a digitalized "design through manufacturing engineering" flow with powerful automation, simulation and integration. Capital will transform a company's engineering prowess & manufacturing efficiency.
Reduce the cost of 1st time quality
Electrical systems are very complicated. Without digitalization Simulation, verification and traceability is difficult.
Create cheaper, more efficient, functional products
Harness manufacturing is a complex process. Without digitalization optimization for cost, weight, space,and other targets cannot be achieved.
Reduce development costs and cycle times
Design change is constant.  Without digitalization design changes are difficult to execute, and accurately pass through to manufacturing and documentation.
Capture intellectual property currently stored as tribal knowledge
Creative engineers want to be liberated from mundane tasks.  Without digitalization assets cannot easily be re-used or re-purposed. Corporate IP cannot be leveraged.
This is a truely connected solution for Design Engineering, Product Engineering, Formboard, Manufacturing, Sub-Assemblies, BOM & Costing, Line Balancing and Work Instructions.
Formboard Design Time Reduction

85%

85%

Design Error Reduction

50%

50%

Quote-to-production cycle time reduction

30%

30%
Oasis offers a true model-based portfolio that is built on 3 technology principles:
These principles are strong differentiators – Data Coherency, Built to Integrate & Advanced Automation:
>>No competitive portfolio has comparable depth of capability.
Functionality examples leveraging these principles include:
Electrical simulation & functional verification.
Generative wiring design & configuration optimization.
Manufacturing SBOP, costing & operator instructions generation.
Documentation generation.
Traceability & impact analysis.


True model-based enterprise
Electrical design optimization, verification, manufacture, documentation, and maintenance is now only feasible using sophisticated methods.  Model based tools deliver substantial automation.  Errors and inefficiencies are avoided, and engineers freed for creative problem solving.
Functionality examples leveraging these principles include:
Automate difficult or repetitive tasks.
Simulate, verify, or optimize designs and manufacturing processes.
Efficiently meet compliance mandates.
Re-use or re-purpose assets while protecting IP.
Improve after sales operations.
Foster engineering innovation.
Wire harness product & manufacturing engineering solutions
The complexity and product variation of electrical distribution systems cannot be managed by human beings alone. Sophisticated software solutions are indispensable.
Model based tools deliver substantial automation avoiding engineering errors & allowing engineers to innovate instead of performing mundane tasks.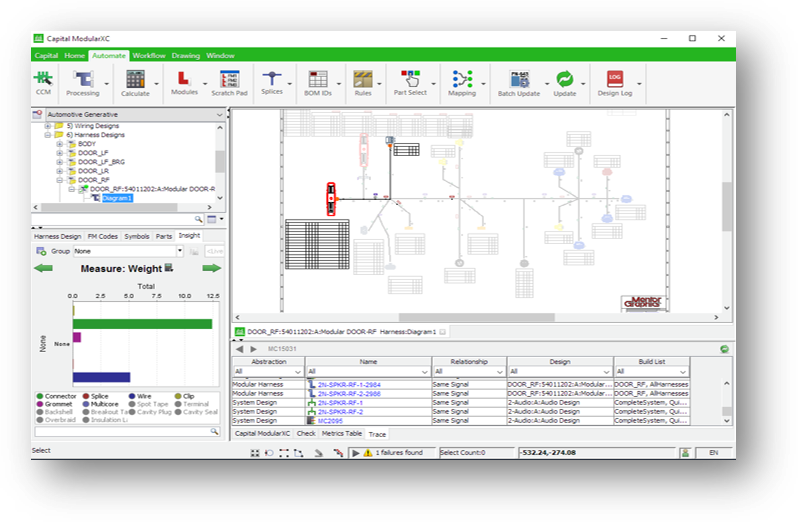 DESIGN & PRODUCE:
Capital Harness Designer Modular
Capital Harness Designer Modular enables harness engineers to create fully detailed, validated and manufacturing-ready harness designs and modular sub-assemblies.
Buildable harness variants (including diagrams and BOMs) are automatically generated, based on user defined choices for decomposition – Composite-Derivative decomposition, or Modular decomposition. Modular decomposition offers both functional module decomposition, for example "tail lamps", and production module decomposition, for example "ECU connector sub-assembly". Conceived from the ground up to be highly configurable, Capital Harness Designer Modular allows companies to tailor the tool to meet their precise needs, both in terms of graphical outputs and they way designs are created and validated.
Functional assignation algorithms identify modules based on codes assigned to the wires, then automatically identify and configure all related components – connectors, protections, clips, etc – to complete the definition of each module. Production assignation algorithms identify and configure the set of manufacturing sub-assembly modules, based on user-defined best-practice rules and constraints to increase manufacturing efficiencies and reduce costs.
PRODUCE: Formboard Designer
Capital Formboard Designer extends Capital Harness Designer and Capital Harness Designer Modular functionality to provide full-scale diagram capabilities linked to the baseline Harness or Modular drawings – changes made in one diagram are automatically updated in the other diagram eliminating a common source of error.
Fixtures and other manufacturing elements can be placed interactively, or automatically using custom design rules, ensuring best-practice manufacturing engineering. Graphical style templates speed the design process by supporting the concurrent design of diagrams with different visual content – the engineer defines the bundle layout, connectors & wiring and the style template facility automatically generates the required graphical annotation entities – symbols, text, fonts, auto-colored insertion-views, etc.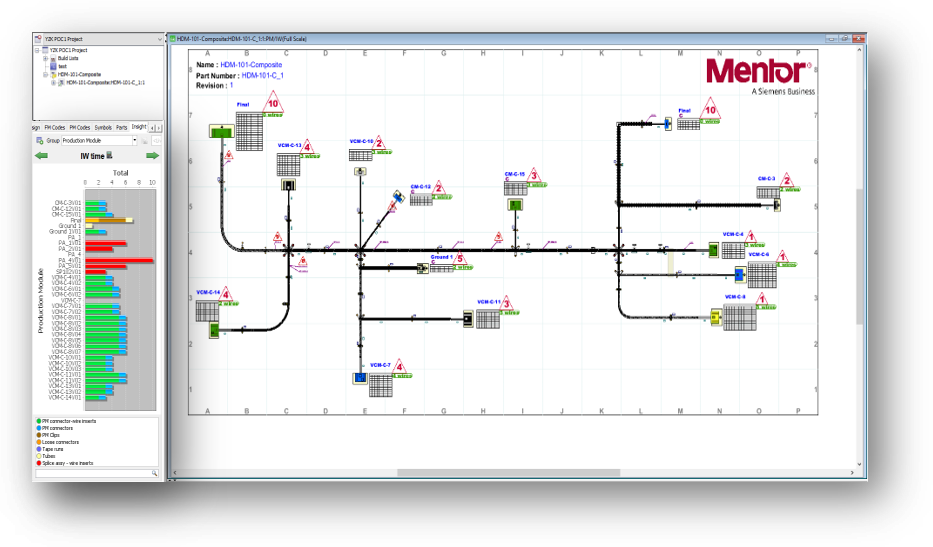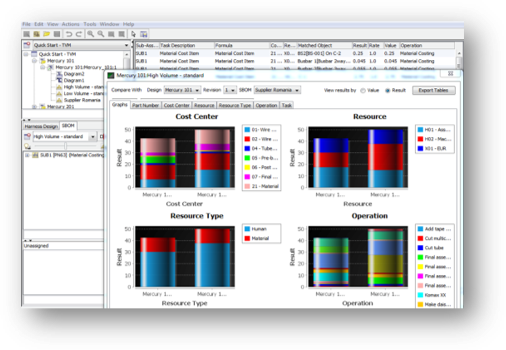 PRODUCE: Harness Process Designer
Capital Harness Process Designer enables costing & process planning engineers to rapidly and accurately synthesize harness build processes & tasks, costs, manufacturing times, and more, from a harness design created by Capital Harness Designer, Capital Harness Designer Modular, or Capital Essentials.
Unlike traditional approaches that rely on approximation, labor-intensive & detailed expert analysis, proprietary hard-coded applications, and slow error-prone processes, Capital Harness Process Designer provides a formal framework and process for the rapid generation of accurate time and labor costing.
Capital Harness Process Designer is designed to support both OEMs and Harness Suppliers with specific functionality designed to help the individual engineering tasks: OEM cost controllers, OEM architects and designers, Supplier sales/quotation engineers, Supplier industrial engineers, and Supplier value engineers.
PRODUCE: Work Instruction Publisher
Capital Work Instruction Publisher uses rules to automatically generate work instructions and visual aids for harness assembly operators. It removes work instructions creation from the critical path for introducing new or changed harness designs, thus eliminating errors and reducing costs.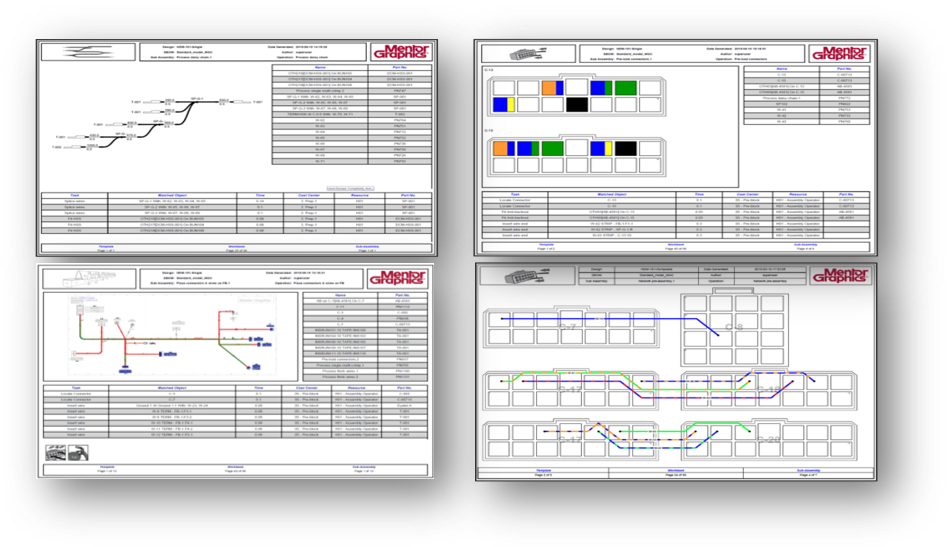 Essential
wire harness engineering & manufacturing tasks are as
 follows
Product Engineering for Manufacturing
to complete the product definition for manufacturing
Formboard Creation & Analysis
to release optimized layout for assembly board manufacture
Production Modules (PM) Creation
for harness content decomposition into smaller packages
Structured Bill of Process Definition
to create manufacturing sequence structured BOM
Workstations Balancing
to create evenly distributed operator work contentensuring 'TAKT' times are considering sub–and final assembly stations
Work Instructions Generation
to clearly and unmistakably instruct the operators about their tasksfrom raw material through packaged goods
Design through manufacturing process flow
Capital & Capital Essentials
Professional Services
Technology will never stop evolving, it's the nature of the beast. So having an innovation advisor on your side is vital: to tailor a strategy that fits, and to uncover the right tech for your toughest business problems—no matter the industry.
Our technology consulting services help you steer your transformation with the latest technology, design thinking and agility, while also energizing your legacy systems—at a pace that's right for your business. Raise your business to the next level with groundbreaking strategy, fresh technologies and innovation advisors that help drive business value.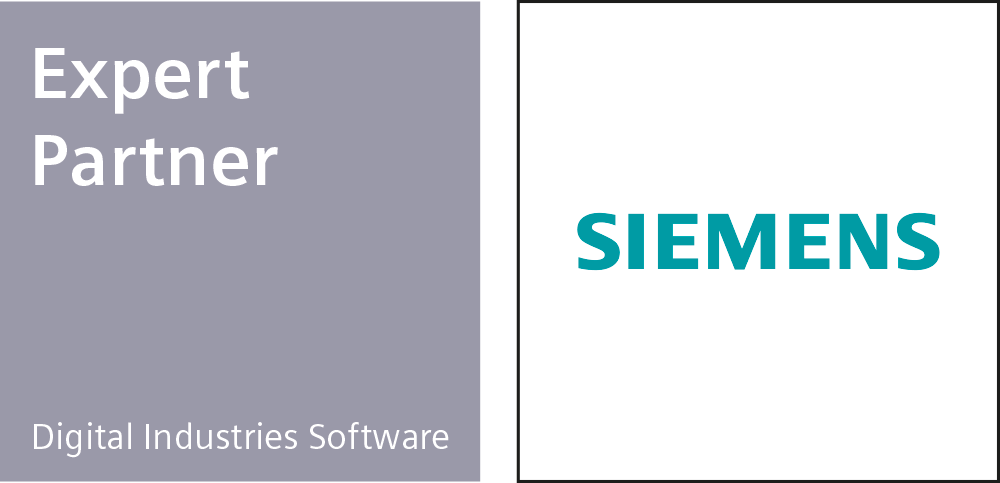 Services & Training
For technical software used in the design of electrical distribution systems the key factor seems to be how the organization adopting the software organizes itself.  That may seem a curious thing to say, but let's look at it right from the beginning.
Technology Advisory Services
Offering a comprehensive approach to deployment:
Expert-led
Expedited & Streamlined
Continuous Verification & Validation
Accelerate time to improved productivity
Read more about our Software + Services
On Demand Training
Courses include interactive videos, written course materials, knowledge checks, and hands-on labs through the Siemens Virtual Lab platform. This platform utilizes a test environment where you can work with the tools in a hands-on setting, allowing you to implement the skills you're gaining along the way.
instructor led Training
#1- Dynamic, real-time engagement with an instructor. We deliver classes with all the necessary equipment and software at your offices.
#2 - Training without the travel. This flexible learning format is delivered with a qualified instructor available online to answer questions and walk you through Virtual Labs running fully configured Siemens software.

Implementation & Library Development
Our technology advisors help you pivot wisely to new technology, while getting the most from your legacy technology.  Together, we develop a roadmap for change that integrates with your workforce and business processes creating greater success.
Symbol Libraries
Our Symbol Libraries for your selected connectors and terminals are created from the manufacturer's drawings to insure accuracy. A library of industry standard electrical and drafting symbols is also provided. Sample Border Symbol templates with property value placeholders are provided to automate the addition of project, design, and diagram specific information.
Component Library
Based on your requirements, we will provide a 
QuickStart
 custom library of component parts (i.e. wires, connectors, terminals, boots, insulation, clips, etc.) that can be used in designs created in Capital® and VeSys® design tools. The library will contain the wire and multicore cable that you specify. Connectors are configured to include typically used mandatory and optional "Housing" parts such as terminals, cavity plugs, boots, seals, and mounting hardware. Cavity names, cavity attributes and mating information is also provided. The following library design features and default specifications are used.
A QuickStart custom library of 100 existing connectors of your choice (together with some bonus content) which is usually a good start for a new customer and includes the time to select, package, test, transmit to you.   You can easily "grow" the library yourself from there with proper training.
Oasis maintains 3 master libraries.
Metric UOM – Automotive

Imperial UOM – Automotive

Imperial UOM – Mil-Aero
As of 1/1/2021 there are over 13,000 components in these libraries.