PADS Standard
Proven PCB design software
Perpetual Pricing

Altium®, OrCAD®, & other translators

Starter library

Part creation wizard

PartQuest with 450K+ parts

Hierarchical schematic with table-based design

Component management

PADS AMS Cloud online circuit simulation

Schematic re-use

Constraints with hierarchy

Design rule verification

Interactive and automatic routing

Split planes & copper pour

eCAD-mCAD Collaboration

RF design

3D rendering with STEP import/export

Fabrication checks

Archive management

Design compare & review
PADS Standard Plus
Advanced Engineering & Design
Perpetual Pricing

Altium®, OrCAD®, & other translators

Starter library

Part creation wizard

PartQuest with 450K+ parts

Hierarchical schematic with table-based design

Component management

PADS AMS Cloud online circuit simulation

Schematic re-use

Constraints with hierarchy

Design rule verification

Interactive and automatic routing

Split planes & copper pour

eCAD-mCAD Collaboration

RF design

3D rendering with STEP import/export

Fabrication checks

Archive management

Design compare & review

3D placement with DRC

Integrated front-to-back constraint management

High-speed constraint support

Differential pairs

Matched-length & min/max routing

Design variant management

Physical design reuse

High-speed interactive routing

Central library

Signal integrity with crosstalk

Thermal analysis

Analog simulation
PADS Professional
Powerful Collaboration
Perpetual Pricing

Altium®, OrCAD®, & other translators

Starter library

Part creation wizard

PartQuest with 450K+ parts

Hierarchical schematic with table-based design

Component management

PADS AMS Cloud online circuit simulation

Schematic re-use

Constraints with hierarchy

Design rule verification

Interactive and automatic routing

Split planes & copper pour

eCAD-mCAD Collaboration

RF design

3D rendering with STEP import/export

Fabrication checks

Archive management

Design compare & review

3D placement with DRC

Integrated front-to-back constraint management

High-speed constraint support

Differential pairs

Matched-length & min/max routing

Design variant management

Physical design reuse

High-speed interactive routing

Central library

Signal integrity with crosstalk

Thermal analysis

Analog simulation

Advanced high-speed constraints

Sketch routing

Dynamic copper pour

Panelization

Hierarchical 2D/3D planning & placement

Enhanced design reuse

Advanced drawing & documentation

Design for fabrication

Optional $: Rigid Flex Design
*additional cost for Annual Support
Technology Overview
Designing today's printed circuit boards requires more of engineers than ever before. High-speed circuitry mandates repeatable, interactive routing with real-time design rule checks and advanced constraints. Successful product creation demands seamless collaboration between ECAD and MCAD tools, in 3D. Can your PCB tool tackle these next-generation layout challenges?
Frequently Asked Questions
Choose the right PADS PCB software to get the job done right the first time!
PADS® provides proven tools for PCB design at an unbeatable price, with scalable solutions and built-in capabilities for advanced engineering and complex design.
Proven PCB design software
Quality PCB schematic and layout tools
Affordable cost of access with easy scalability
For PCB designers who need analysis & verification
Easy-to-use HyperLynx® technology
Powerful layout with high-speed constraints
Tackle complex challenges better and faster
Incomparable performance at a remarkable price
Advanced layout with hierarchical 3D design
Compare Previous Versions to the newest PADS Creation Suite Products
Compare PADS VX2.7 Solutions with older DS, LS, ES Suites and Layout Bundles  Updated 3-23-20
Does PADS have 3D Capability?
Yes, PADS supports full 3D viewing and placement. Import STEP models to see collisions between tall components and the enclosure. Export a STEP model of your board for use in your mechanical CAD environment.
Does PADS include mCAD Collaboration?
Yes, Collaborate from within your existing environment
PADS MCAD Collaborator utilizes the ProSTEP iViP format to enable effective real-time collaboration. Developed in a joint effort with the industry's leading ECAD and MCAD vendors, including Siemens® NX, PTC® Creo®, and Dassault Systèmes' SolidWorks® and CATIA®, this schema enables accurate and timely bi-directional communication of incremental design change data between ECAD and MCAD domains
Now Included with PADS Standard, PADS Standard Plus and PADS Professional
Does PADS have an auto-router?
Yes, in PADS you can auto-route traces on unlimited layers. Purchase an option such as Multi-Trace High-Speed Tuning to automatically tune your high-speed nets or HSD Auto-router to automatically route and tune your high-speed nets.
Does PADS come with free libraries?
Yes,
PADS has a free
starter library
containing over 11,000 Part Numbers with footprints that are IPC-7351 compliant.
How difficult is it to create libraries in PADS?
PADS comes with symbol and footprint wizards to help ease library creation. Use Digikey
PartQuest
to search through the Digikey database and download symbols and footprints that are available in your designs.
Is PADS able to read in designs from other PCB tools?
Yes, PADS includes translators to easily translate designs from competitor tools.
Does PADS handle high-speed designs well?
PADS Standard Plus and PADS Professional allow you to define net classes, min/max lengths, matched lengths, and easily define differential pairs. Routing these nets will adhere to all high-speed rules and include a target length monitor to easily identify which traces need to be tuned.
Does PADS include simulation capabilities?
PADS Standard Plus and PADS Professional include pre-layout and post-layout signal integrity simulation with crosstalk powered by HyperLynx. Also included is HyperLynx Thermal for board-level thermal analysis.
Does PADS include a Design Rule Checker?
Yes,
PADS includes a Design Rule Checker. This will check your design against all of your design constraints that you have entered. This can be done while you are placing components or routing traces or after everything has been done in batch mode.
For additional rule sets, consider the PADS Hyperlynx DRC Option (23 Rules) or Standalone Hyperlynx DRC (32 to 40 Rules). Contact inside sales for more info on these other options.
Can I use a different schematic capture tool to create the schematic and use PADS to route the board?
Yes, you can use PADS to bring in the netlist from the schematic capture tool and place components and route the board.
Does PADS export manufacturing files?
Yes, all files necessary for PCB manufacturing can be generated within PADS.
Are training and tutorials available?
Yes,
A tutorial called the PADS Evaluation Guide is installed with the tool. It includes lessons for every facet of the tool as well as a library.
Training is available from Mentor Graphics, either On-Demand or custom onsite.
Is there a PADS Evaluation?
Yes, PADS Standard, Standard Plus, and Professional can all be evaluated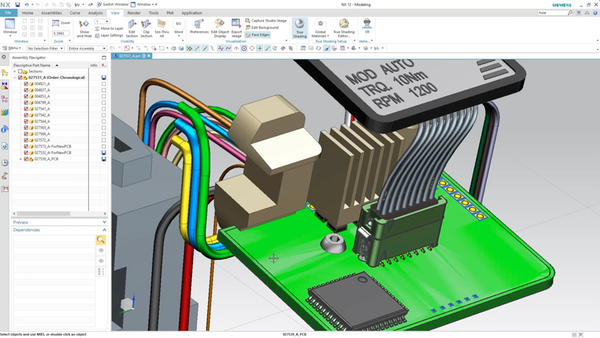 Do your design needs extend beyond the feature lists above?  See how the available PADS Options can take you to the next level with high level simuation, analys and tools that complete the design process.
Can we help you?
Fill out the contact information and one of our experienced field professionals will contact you.