Mechanical

Analysis

 Tools
Offering computational fluid dynamics and electronics thermal testing solutions for the toughest industrial engineering challenges.
Siemens Digital Industries Software 
Where today meets tomorrow
Simcenter™ is a flexible, open, and scalable portfolio of the best predictive simulation and test applications that support you at every step in your digital journey. Simcenter is a key component within Xcelerator.
Becoming a Simcenter customer means more than purchasing world-class software or services; it opens the door to an unrivaled wealth of engineering expertise. Our technological solutions are backed by a global team of engineering specialists, dedicated to helping you meet the challenges of your industry and exceed the expectations of your market.
We believe that the comprehensive digital twin is critical to the future of engineering innovation and that simulation and test are the beating heart of the digital twin. By providing you with insight into the real-world performance of your product or process, Simcenter allows you to accelerate innovation over the entire lifecycle.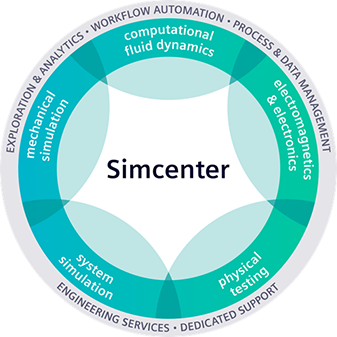 Simcenter™ lets you predict the performance of your 3D geometry-based designs. In our Simcenter 3D CAE products, you can import geometry from any CAD source and prepare analysis models in a unified environment for a wide range of CAE methods including finite element, boundary element, computational fluid dynamics, and multi-body dynamics.
Simcenter's integrated high-end, multi-discipline solutions are scalable for use by general CAE analysts and discipline experts. Additionally, by linking 3D simulation to Simcenter's 1D and testing solutions, you can achieve unmatched accuracy.
Simcenter™ Flovent™
Using Simcenter™ System Simulation solutions, you can evaluate and balance potentially conflicting performance attributes (such as thermal management, operability, drivability or fuel efficiency) from the early development stages until the final performance validation and controls calibration. To deal with an increased number of requirements, use cases, and architectural variants, you can rapidly create heterogeneous system simulation architectures and share your models with the global engineering team. In addition, to help you bring more successful products to the market rapidly, the concept of digital twin has been extended to on-board software engineering.
Simcenter™ Testing Solutions deliver critical insights for innovate smart products, increase testing productivity and efficiency, maintain quality, enhance team collaboration and engineering flexibility, close the loop with simulation and lower cost of ownership
Mechanical

Design

Tools
Solid Edge provides a flexible portfolio of affordable, professional software tools to address all aspects of product development
Can we help you?
Fill out the contact information and one of our experienced field professionals will contact you.